Boarding of guests
You can prepare your own meals or order it from us.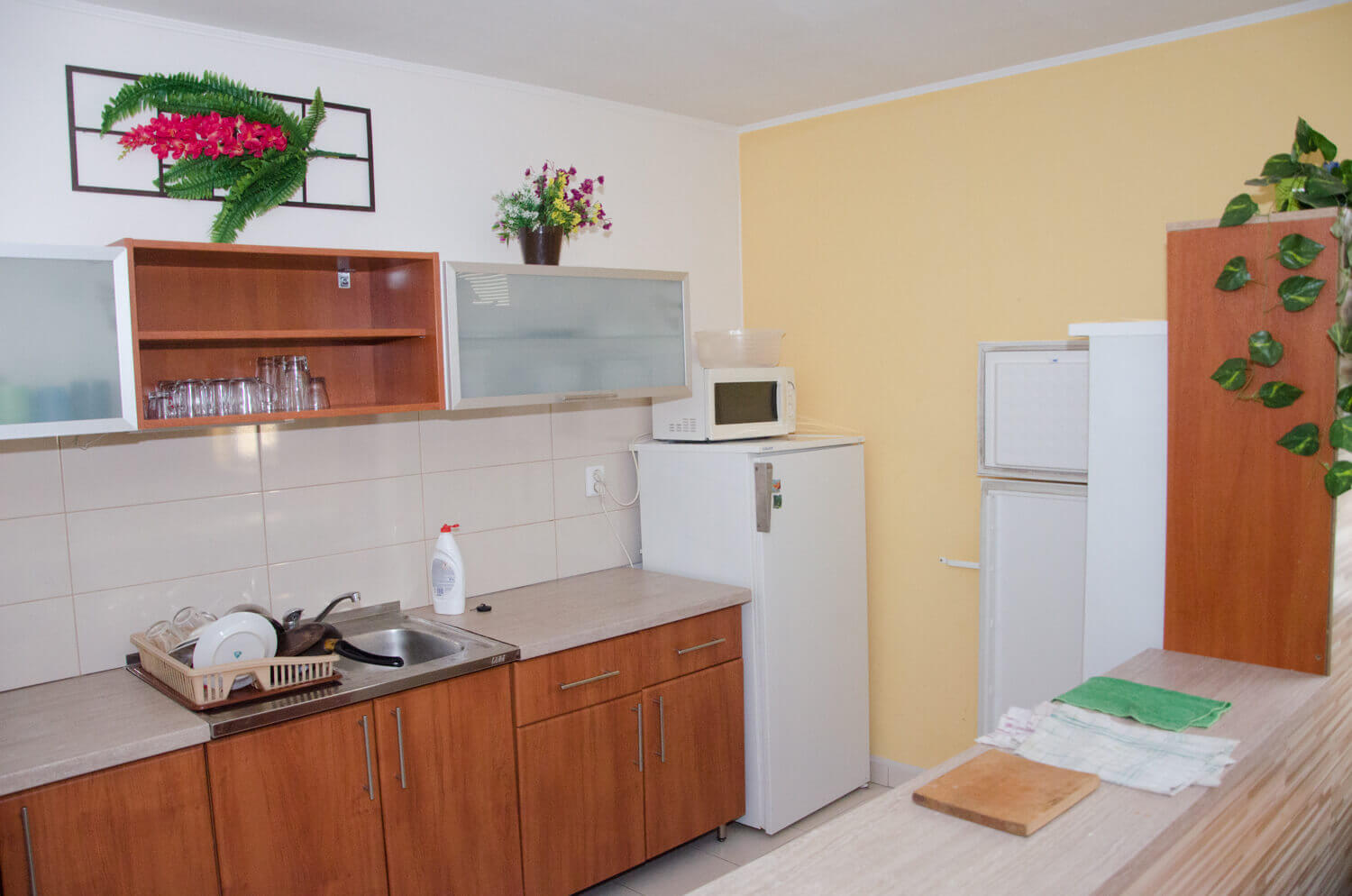 For less demanding or smaller groups of guests there is a kitchen for self-preparation, warming up food and smaller easier cooking.
The kitchenette is upstairs in the rooms. There is a kitchen with sink, double stove, microwave, kettle and two refrigerators with freezer. The line includes glasses, plates, cutlery, basic tools, pans and a few pots.
There are tables with benches for about 25 people.
There is also a TV and electronic darts.
Order meals with us and we will serve you in our new dining area on the ground floor.
Breakfast can be served in the form of a selection from the breakfast menu or in the form of buffet tables.
Dinner includes soup served in soup bowls and a second main meal.
We can adapt the time of serving meals to the requirements of our guests.
Breakfast buffet is included 6 €, children 3 – 12 y. 4 €
You will find ham salami dishes, bacon, cheese, eggs, vegetables, pastries, butter, jam, musli, yogurt, coffee, tea, milk and fruit. We change several types of spreads and also offer hot dishes such as. sausages, roasted or boiled sausage, roast or favorite bread in the egg.
Breakfast according to choice from breakfast menu is included 4 €, children 3 – 12 y. 3 €
We have the choice: roast, sausages with mustard, roast or boiled sausage, ham plate with egg, butter and vegetables, or sweet pastry, butter, jam and milk. For all options pastry, tea and coffee.

Dinner, the soup is served in soup bowls. Price is 6 €, children 3-12 y. 4 €.
Dinner includes soup and main course. We will offer you a choice of several tried and tested dishes, including Liptov specialties.
If you have another idea, e.g. cauliflower, cabbage, bean, roasted smoked knees, toasting by fire or the like, let us know.

We can adapt the time of serving meals to the requirements of our guests.

Warning:
The food order must be confirmed at least 48 hours in advance.
We prepare meals in our kitchen
Find out about boarding options in your term